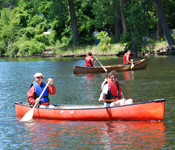 Get on the water and learn to manage your own canoe. You'll be doing 'pivots' in a few minutes. Watch as your confidence grows with your skill level. The excitement and satisfaction of safely controlling your own canoe is a wonderful feeling.

I've been an ORCKA  certified instructor for 30 years. ORCKA is a nationally and internationally recognized safe canoeing program. I can offer a range of ORCKA courses from the basic 2 hour introductory "Safe Canoeing" program, to advanced courses in Canadian Style Paddling (flatwater or lakewater) or Wilderness Canoe Tripping. Instruction can be in groups or individually. Informal stroke and skill improvement is available as well.

I also offer instructional, guided and outfitted wilderness canoe trips in world famous Algonquin Provincial  Park, the historic Rideau Canal, Frontenac Park and other wilderness areas in Eastern Ontario.