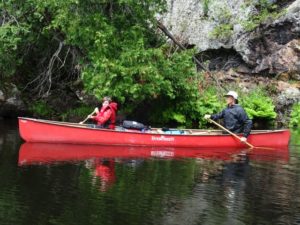 Canoe Day Trips of 2 to 6 hours are available in urban or wilderness areas in Eastern Ontario. Improve your paddling skills; explore rivers, lakes and marshes and be amazed by the wildlife. See historic Kingston Mills lock on the Rideau Canal or the city of Kingston or Fort Henry from the water and hear interesting tales of their past, including ghosts! You are encouraged to bring a camera and/or binoculars.
Wilderness Canoe Trips – Enjoy an exciting wilderness adventure and sleep under the stars in safety and comfort. See unique wildlife, amazing scenery, stunning sunsets and a night sky that will take your breath away. Make new friends and create memories that will last a lifetime. Get away from urban high speed and digital stress and breathe fresh air. Disconnect from the internet and reconnect with nature and enjoy tasty meals in the wilderness. Firefly Adventures specializes in trips in Algonquin Provincial Park, Frontenac Prov. Park and the World Heritage Site Historic Rideau Canal, which runs from Kingston to Ottawa. Trips are instructional, fully outfitted and include all food. If you have a small group up to six, please email info@fireflyadventures.ca to book a trip and work out the details. Improve your paddling skills and learn tripping skills of campsite management, fire starting, camp cooking, no-trace camping, animal avoidance and portaging. Seeing the stars at night from your canoe is a magical experience. For fishing, non-Ontario adult residents 12 years and older must purchase a non-resident fishing license. All canoe trips are $100.00 (Can.) per person per day, discount for children under 12.
Rideau Canal   The Rideau Canal is a 200 kilometer long World Heritage Site, built around 1830 and is an engineering marvel. Nearly all of the lock stations, made of limestone and wood, are still run manually! Rideau Canal canoe trips are a wonderful combination of history, wilderness and small town charm. It can be paddled in sections or in its entirety from Kingston to Ottawa while camping at the historic and beautiful lock stations (or sleep at local B&B's where available, additional cost).
Algonquin Provincial Park –   is a world famous wilderness park with 2,400 lakes and 7,600 square kilometers of natural beauty. Camp for 2 to 5 nights in the Barron Canyon area with stunning views. You must bring a camera for this trip!
Frontenac Provincial Park -is a great local wilderness park for a gentle introduction to canoe tripping, near Kingston.
What you provide on canoe trips
For day trips please bring comfortable outdoor clothing appropriate for the temperature and a drink, snack or lunch, as well as sun screen, a hat, sun glasses, etc.
For Canoe Camping Trips it is suggested that you bring a change of clothing for every 2 to 3 days of the trip. Suggested clothing and personals include: wool socks, underwear, long underwear (poly pro or similar for cooler times of year), 1 pair quick dry pants, 1 long sleeve 'T' shirt, 1 warm sweater (wool or fleece), shorts, bathing suit, "t" shirts, rain suit (pants and jacket), sun hat, shoes for paddling/portaging (sturdy) and shoes for camp (NO FLIP FLOPS or open toed sandals). Personal items include: sunscreen, sun glasses, insect repellent, medications if required, small flash light or head lamp, small towel, tooth brush and a sleeping bag.
Sleeping bags and rain poncho's are available to rent from Firefly Adventures for a modest fee.
Please state dietary needs/preferences, (vegetarian, gluten free, allergies, sensitivities, etc.) Registration, medical and waiver forms must be filled out and signed as well.
Canoe camping trips will be planned with the clients' abilities in mind, however, participants of wilderness trips must be physically capable of paddling several hours each day as well as carrying packs of up to 25 kg. and canoes for distances up to several hundred meters. Portages on the Rideau Canal trip are shorter and range from 50 to 300 meters.